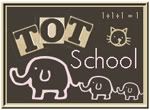 25 months
I want to start with my favorite pick of the week, Noarai reading a book to Lucia!!! She usually wants to read the book by herself but, on Sabath she read the book to Lucia and let her touch all the pages:)
1. On our playing date with Cristineta we made
Windsocks
and the next day for breakfast time we had cake and a sight of our windsock waving with the wind.
2. We played with blue and red
water,
and an eyedroper, at learning time and in our playing date. They loved it, and we discovered that mixing blue and red we've got purple.
3. She did some
watermelon tracing
, and our big letter L, T and V. She can managed words with two movements.
4. She was able to found the letter w.
5. She wrote Tete and Tata, her cousins names.
6. She made her Whale, painted it, tirred some blue tissue paper, made balls, glittered the w and glued it all toguether.
7. We painted our w
memory verse
"I am with you always" And she did her very first intentional painting she called it pumpkin:)
8. We did our number 4 book from
Hart 2 Hart
. I love this blog, it has awesome ideas.
9. We did our watermelon shapes from COAH as well.
Noarai has sung a whole song all by herself, without mommy, for her very first time!!!
I invite you to Daddy's time Friday, it's a way to show some words of love to our husbands of the time they expend with the Kids. Just grab my button for Daddy's time Friday and make a post with pictures of Daddy with the Kids.