I've been tired due to the lack of sleep (Lucia has her very first tooth!!!!!). So Noarai's boxes are the same of last week even though I need to change them soon, and I only managed to change some of Lucia's.
Lucia 8.5 months
1. A plastic glove blown up as a balloon.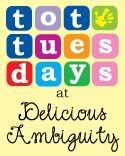 I'm always searching for new ideas. You are welcome to link your boxes ideas.