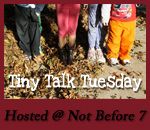 This girls love each other a lot but... we've been having some hitting and crying issues at home lately. But finally Noarai has discovered a way to mend her bad behaviours: saying I'm sorry.
They were having a bath together when Lucia began to cry loudly. I was picking their outfits and trying not to solve the problem and suddenly the miracle happened. Noarai said to Lucia: "I'm Sorry" with the sign and Lucia suddenly stopped crying out. I was amazed and I learnt as well a lot from the girls:
1. To say sorry when I do something wrong.
2. To forgive instantly.