a href="
http://www.1plus1plus1equals1.com/TotSchool.html
" target="_blank">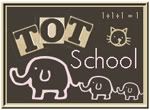 This week our theme is Firetrucks. And as our letter is F I decided for Wednesday work about this letter. 1. Gather your materials. - Computer - Small F for the learning poster - Crayons - Big F - An attractive material to fill the Big F with. I used colored stones. - The picture of the F and the fish, copied of the confessions of a homeschooler
http://confessionsofahomeschooler.blogspot.com/2009/11/prek-letter-f.html
- Glue - I used pumpkin seeds but you can use whatever you like. - Don't forget the wipes!
2. We started painting the F for the learning poster. While she was painting I was asking her to pronounce F, and I repeated myself the sound singing it until she finished.
3. When she finished painting we stuck it on our learning poster.
4. We continued with the F video, I asked her to pronounce F over and over at every sequence. Here is the link:
http://www.starfall.com/n/level-k/letter-f/load.htm?f
5. After it I took the big F and we filled it with colored stones. I realized it was too big for her, the next time I'll do it smaller. But she enjoyed and worked the concept of inside and outside.
6. We took the picture of the Fish and started gluing the F and then filling it with pumpkin seeds.
7. We finished painting the fish with crayons. Here is the result:
I hope you enjoyed.