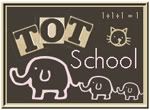 3. After that we worked on the o dot and a dot page (
http://confessionsofahomeschooler.blogspot.com/2010/04/prek-letter-o.html
). We used some tissue paper, tear it, made some balls and glued them to the capital o. Finally we used circle sticks for the lowercase o.
4. Then we searched our sheet to find the missing o's. Here you've got the link for the sheet (
http://www.beginningreading.com/Alphabet%20Set%202.htm
). It was funny because after that activity in her playing solo time she was saying "nooo that's not an ooooo" while playing with her baby doll.
5. I printed the o lacing cards from
http://confessionsofahomeschooler.blogspot.com/2010/04/prek-letter-o.html
. And I used the lowercase for sewing (only with four holes ,she can't handle more), and for stick poking with the uppercase.
7 We finished playing with all the vowels on the floor, running and hopping from one to the other and saying it's sound. Sorry but I couldn't get a picture of this activity. Mommy's favorite, with noarai's beloved "tata" at the turtle pool!