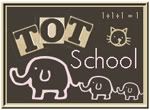 First of all sorry for the long post and for the directions of the pictures i had problems with them. 1. We worked on our vocabulary words from
RRSP
and of course she put on daddy's vest.
2. We continued with our
cylinder projects
. This time with colors. She painted each cylinder (sorry I didn't get pictures of that because I was helping her), and when they got dry matched colors for making the letter v. We mixed colors, letter and shape. Finally we found our cylinders and identified their colors.