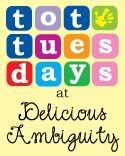 We continued with our
cylinder projects
. This time with colors. She painted each cylinder (sorry I didn't get pictures of that because I was helping her), and when they got dry matched colors for making the letter v. We mixed colors, letter and shape. Finally we found our cylinders and identified their colors.
NUMBER DAY 1. We did our vegetable wheel barrows from Home Grown Hearts. She enjoyed this one a lot.
2. Playdough 13.
4. Cup and flag matching game.
5. Caterpillar number construction from Confessions of a Homeschooler
/div>