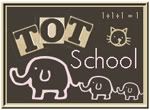 1. We started with our inchworm videos of the day
http://mytotlearningtime.blogspot.com/2010/07/inchworms-day.html
.
3. I printed the capital I and stuck it to a box. Then I punched some holes and gathered some colorful sticks. As you see in the picture she punched all her sticks. She loves this activity and I'm repeating it almost every week and she always enjoys it. Good working for fine motor skills and letter recognition.
4. I printed the lowercase. I stuck it to a cereal box and punched only four holes. I gathered a rope and she sewed her four holes. She could'n manage more. And four it's a big effort for her. But at least we can work sewing. I stuck to the rope one of the sticks you saw in the first activity with sticky tape. This way she can sew better.
6. Finally we threw all our vowels to the floor and just played running from one vowel to the other and saying the sound. This picture is after playing a little bit (sorry I couldn't take a shot of the game), she got interested in mommy's wallet, but you can see the vowels in the floor.
Mommy's favorite picture of this day is wake up time with bear.