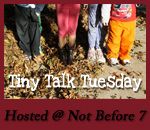 This week we have received a present from my sister in Miami. There were two santa's costume for the girls and Noarai asked me to put on her costume. When she got dressed she told me:
"Mama look I'm a Santa's helper!!!"
This week every time I told her "Thanks for helping me" she answered "Yes, mommy I'm a Santa's Helper" This girl cracks me up:)
I'm allways searching for new ideas to fill my boxes. So If you want you can link up your box ideas this way we can all share an be more creative the next week. Just grab the botton for boxes ideas Tuesday

Don't forget to come over my blog on Friday for Daddy's time Friday. You can link up a post with pictures of your hubby with the Kids, and show him some words of love for this time.