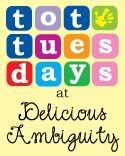 Tonight I slept over 2 hours, Lucia has got a virus and a urine infection. Tonight she didn't manage to sleep, soooo I could only change two boxes.
Lucia 8.5 months
Alma's Designs Today Is
(sun, cloud, snowflakes, kite...) and some numbers. I love our calendar and she loves to explore them. She's getting pretty good at pulling out the items from the cups. She's starting to introduce her fingers inside the cup. As you can see in the picture she doesn't like to wear the right shoe:)
Noarai 27 months
1. Nuts
Edushape Ez-Grip Nuts and Bolts 48 Piece Development Toy
. She managed to pull them out but she didn't try push them in.
Foam Bath Shapes
. This is quite challenging for her. She loves playing with them in the bathtub and pulling out the letters but, pushing them it's hard for her. But this week for the very first time she did three in a row as you can see in the picture.
Mattel Kelly *Tiny Steps* doll Playset
. With her small dollies, house and pushchair. She could play with them for 10', it's the longest she had ever played with anything.
Alex Little Hands Button Art
. She loves this buttons, they are great for practicing colors and fine motor practice. And well she finished all the picture:)
I'm always searching for new ideas to fill my boxes. So If you want you can link up your box ideas. This way we can all share and be more creative the next week. Just grab the botton for boxes ideas Tuesday