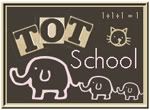 Noarai is 21 months
2. Then we filled number 19 with stickers. I used two colors to help her concentrate.
3. I wrote the numbers 10-20 with a permanent marker on the sticks and we put them on her fingers and toes, on her arms, and also all over the house ;)
7. We did a magnet page I prepared for her. I found some magnets at the dollar store and I wrote numbers from 10-20 with permanent marker and she matched them.
8. Finally mommy's last number project. I took some disposable cups and made a hole on the bottom and stuck on each cup a stick with the numbers from 10 to 20. Then I took sticks and stuck on each one cardboard with the numbers from 10 to 20. This activity was a hit number matching, fine motor skills and a really concentrate toddler!
Mommy's favorite, my two girls ready for church!