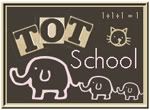 This week she has enjoyed the squeezer maching and made all by herself her juice most of the days.
RRSP
.
COAH
4. We made our dot a dot page from COAH (same link above) with finger paint and the eraser of a pencil. We changed the color to help with concentration.
2teachingmomies
separating summer clothes and winter clothes.
And this week was her grandfather birthday. We sent you lots of love "yayo pepo".